Our long run for the past weekend was scheduled to be 7 miles! On Saturday it was beautiful out but we were busy with getting the boys to basketball games and then me having to get to work. That meant that our long run would have to be on Sunday. Unfortunately for us it got crazy cold between Saturday and Sunday and we were forced inside on the treadmill for our long run. I made sure to grab my iPod and Yurbuds and we headed to the Y. We were lucky and were able to find treadmills next to each other! We choose the Virtual Active setting- which I am loving- and we decided to run together in Italy! It was beautiful but it was also fairly hilly (when we were done it Italy we eneded up in the Swiss Alps). I have to admit that I was a little intimidated when I saw the graph come up on the screen that shows the incline changes- I wasn't sure how things were going to go with this being our "long" run! Once we got going it really wasn't bad and I was actually grateful for the changes in incline because it kept the run interesting and mixed it up. It took me a little while to get in the groove. I think I finally felt really good about 3.5 miles in. We also took along
Sport Beans
to use. I ate a few at the 3 mile mark and then a few more at the 6 mile mark. They tasted pretty good but I am not use to eating and drinking much while running so it was different for me. I did get a bit of a side-ache at about 4 miles- not sure if it is related to eating and drinking at 3 miles or if it was just a fluke. Fueling is something that we need to work on as we continue on our half/full training plan so we are trying a few different things. In the end 7 solid miles DONE!!!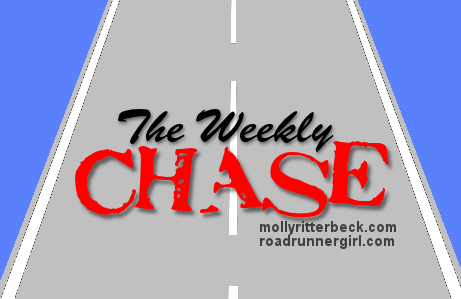 It has been a few weeks since I have done The Weekly Chase but these were my goals back on January 1:
1) Keep a positive attitude as I head into surgery tomorrow. (Done for the most part- doubt/fear made it's way in a few times but I feel like I did a pretty good job of keeping my head up)
2) Drink 64 oz. of water a day. (Done- I drank a lot of water that week. I had a scratchy throat and I didn't go far without my water. I have continued to do well with this goal)
3) Take time to rest and recover from surgery. (Done- Because of my wonderful family that helped out with the boys I was able to take the time that I needed to take it easy! As I started feeling better I started adding in exercise and workouts that I felt I could handle.)
4) Plank-a-day challenge that a friend posted on Facebook for the month of January.-Do what I can this week! (This has been a work in progress! I started back doing it once I was able to but have since fallen off the wagon.)
I feel like I did great on my goals for the week of my surgery and for the most part continued to do well with them over the past few weeks. I have started to get back to my normal workouts and am ready to get back to The Weekly Chase!
Here are my goals for the week:
Plank-a-day challenge- get back to doing my planks and push myself to improve each day.
Get back to doing my daily squats! Jess @ Run With Jess has a great January Challenge 2013 printable that I have been working on following (Plank-a-day, Squats, and Running).
Get all of my half/full marathon training runs in (per the Hal Higdon training plan).
Get my Scentsy Family business re-organized and book 2 parties (Scentsy, Grace Adele, or Velata).
Make healthy choices when it comes to snacks and eating. Start moving towards "clean" and healthy eating.
Complete the MRTT Winter Runnerland 13.1